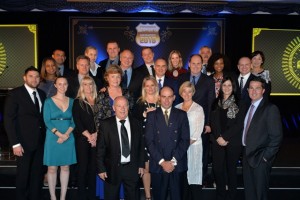 They were among the 167 dealers in the region that received GM's highest honour for its dealerships.
Now in its 12th year, the GM International Grandmasters programme was created to reward GM's best of the best dealers in the region for their excellence. Winners are selected based on vehicle and parts sales, service, customer satisfaction and facility standards. They are judged on both the quantity and the quality of their operations.
"We appreciate the outstanding work that our dealers and their teams are doing every day selling and servicing our Chevrolet, Opel and Isuzu vehicles," said GM Executive Vice President and President of GM International Stefan Jacoby.
"As the interface between our company and our customers, they are contributing to GM's record global sales."
"Our dealers are key members of our team in South Africa," said Brian Olson, GM South Africa vice president of Vehicle Sales, Service and Marketing. "Like GM, our dealers are putting the customer at the centre of everything they do to create customers for life. They have truly earned the right to be called Grandmasters."
During this year's four-day Grandmasters programme, which began on May 8, participants received an update on GM's business, brands and product plans.
They also had the opportunity to get behind the wheel of several GM vehicles to experience their excellence. The programme concluded on May 11 with a gala dinner for all participants.
"The Grandmasters awards come at the same time GM is celebrating its 500 million production milestone. Our dealers are instrumental in helping the company achieve this significant volume," said Olson.
The South African Grandmasters in the major dealer category are: Imperial GM
Germiston, CMH East Rand, Williams Hunt Midrand, Williams Hunt Port Elizabeth, Bates Port Shepstone, Meyers East London.
The Grandmasters in the Medium Dealer Category are: Westvaal Mashishing, Jacksons Queenstown, Williams Hunt Kroonstad while the Small Dealer Category Gandmaster is Eastvaal Motors Standerton.