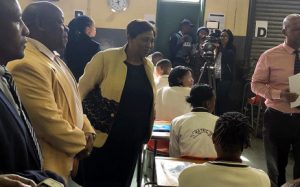 Day one of the National Senior Certificate (NSC) examinations on Tuesday, which saw 757 894 pupils writing English papers, ran smoothly as there were no major incidents that were reported.
There are about 796 542 pupils participating in the 2018 NSC examinations.
Dr Rufus Poliah, chief director for assessment at the department of basic education, said on Tuesday no major incidents were reported and all examination centres declared that the first major examination had run smoothly.
"The department will continue to monitor the examinations as they progress. We are hopeful, as the department, that all measures put in place will ensure we are able to protect the integrity of these examinations by preventing any untoward incidents," Poliah said.
Marking of examinations will begin on the December 1 and will be concluded by December 15. Minister Angie Motshekga will release the 2018 NSC examination results on the evening of  January 3 2019 and candidates will be able to access their results from the fourth through the department's website and various media outlets.
Motshekga said the examinations are the culmination of a 12-year journey with basic education.
"We wish the entire class of 2018 the best of luck. It is now up to our learners to use the knowledge they have gained and to put their heads down and study hard. The matric certificate is a gateway document that you will need to use for the rest of your life, whether it is applying for a job or post-schooling study opportunities," Motshekga said.
Meanwhile, the acting principal at Reiger Park Secondary School Raymond Tekana says they are trying to focus on the future as pupils write the year-end exams. He says the school is working hard on moving from a sex scandal that rocked the school earlier this year.
The school's former headmaster resigned in January after videos and pictures emerged of him having sex with school girls in his office.
Three other teachers were also allegedly involved.
"After the incident, we beefed up security and extra block patrollers. I am confident that exams will go well."
Motshekga surprised the school with a visit on Tuesday to wish grade 12 pupils well on their final exams.
She said her department chose to visit Reiger Park Secondary School because it's one of the best-run schools Gauteng.
Motshekga added that she was happy with the security measures taken by schools during matric exams.