ITS THAT time of the year were more than 800 000 matriculants sit for their final examinations, that began on Monday.
And yes, Vuwani in Limpopo has been hogging headlines with school disruptions and service delive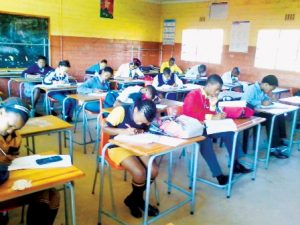 ry protests affecting schools, particularly matric pupils.
The number of matriculants sitting for exams in Limpopo has been recorded to 110 639.
We hope extra classes and special camps organized by the provincial government will help learners to focus on the studies and excel in their exams.
KwaZulu-Natal and Gauteng have the largest enrolments for exams this year, with 169 023 and 112 164 pupils respectively.
Eastern Cape registered 92 755 candidates for the 2017 exams.
Mpumalanga has 70 941, the Western Cape 65 675, North West 40 118, the Free State 32 399 and the Northern Cape has 13 020 candidates.
Meanwhile, the Parliament's Basic Education portfolio committee chairperson Nomalungelo Gina has also called on Grade 12s to maintain focus.
"We would like to wish all candidates the best of luck with these upcoming NSC examinations. We urge them to continue working hard and to keep their focus. This is a culmination of the last 12 years of schooling. Do not to lose focus now, as the goal posts are in sight," she said in a statement.
Political parties have also wished matriculants well in their exams and avoid copying, which has become a norm in many schools across the country.
From SLM we wish all our sitting matric students well in their exams.