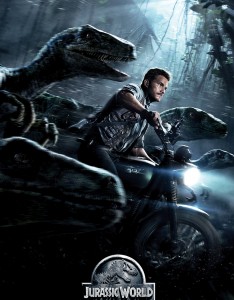 The highly anticipated film, Jurassic World, is making its way onto the big screen, and getting the full-on IMAX® 3D treatment this June.
This month, Jurassic World tears onto the IMAX® 3D screens in Gateway in Durban, The Grove in Pretoria and Cape Gate in Cape Town on Friday, 12 June. The film also releases in the brand-new IMAX® theatre at Ster-Kinekor Baywest Mall in Port Elizabeth from 18 June.
The IMAX® 3D release of Jurassic World has been digitally re-mastered into the image and sound quality of The IMAX Experience® using proprietary IMAX DMR® (Digital Re-mastering) technology. The crystal-clear images coupled with IMAX's customized theatre geometry and powerful digital audio create a unique environment that will make audiences feel as if they are right there, in the park, with the dinosaurs!
Executive produced by Steven Spielberg and directed by Colin Trevorrow, Jurassic World stars Chris Pratt, Bryce Dallas Howard, Vincent D'Onofrio, Ty Simpkins, Nick Robinson and Omar Sy.
The film carries a 10-12 PG V classification and the running time is 2hrs and 5mins.
Booking are now open, so buy your tickets. The film releases at Ster-Kinekor IMAX® theatres on Friday, 12 June.