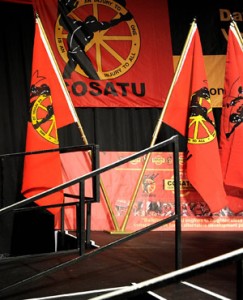 "We won in court today for our right to be in this congress…they have instructed the security to not allow us in," said one of the disgruntled delegates.
Some of the members of the divided Satawu took the union leadership to the high court for apparently being disallowed to attend congress.
Earlier, a delegate was thrown out of the plenary hall. The delegate claimed to be a Satawu official.
The emotionally-charged conference started late as delegates from two opposing factions sang and clapped throughout the day.
The processing of credentials took hours as journalists waited outside. It was later decided that delegates would vote on motions raised during credentials process. The voting would be through the showing of hands, which some delegates rejected. Voting had still not taken place by 7pm on Monday night.
The nine unions who wanted the expelled National Union of Metalworkers of South Africa (Numsa) to be reinstated into Cosatu, questioned the eligibility of second deputy president Zingiswa Losi during the processing of credentials. They also wanted new union the Liberated Metalworkers Union of South Africa (Limusa) to be excluded from the congress.
ANC chairwoman and Speaker of the National Assembly Baleka Mbete, who was scheduled to address the congress at 2pm, left the venue after 6pm without delivering her speech.
ANC treasurer Zweli Mkhize said the ANC was at the congress to support workers.
"Differences arise at congresses, it's the norm. We are leaving the congress to resolve their worker issues," he told journalists on the sidelines of the congress.
Several Food and Allied Workers Union (FAWU) delegates said outside the venue that the National Union of Mineworkers (NUM) was symphathising with the nine unions and was supporting them inside the congress.