This was confirmed by the thrilled Operations Manager at the lurid Marang Hotel- Jasper "Mr Hands On" Coetzee, who noted it was identified as one of 2010 World Cup venues but instead it became a 'white elephant' hence the revitalization after years'.
"This is the first in the country, to have the entire school and hotel fully managed by students," says Coetzee, during a lengthy interview at the hotel.
To be operational s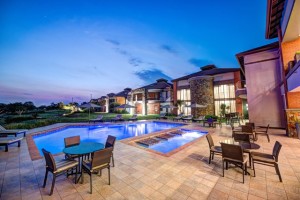 oon, the hotel school and the hotel is built 15kms away from Rustenburg; in an area identified by the Bafokeng and Royal Institute as a tourist destination that would feature lodges, game drives and cultural heritage sites. It will be ready after six months.
The Namibian born but SA based, who boasts a thick hospitality history is proud to be leading one of the historical hotels in the country (hosted England during FIFA 2010 World Cup) says, his team at the Royal Marang Hotel would help with administration, classes, tutorials and other important information beneficial to the already 50 identified students, so that those who want to live would be ready for the job market.
Appointed last year in September Coetzee -has been tasked to plan, execute and deliver on the mandate of Bafokeng i.e. launch new 11 executive suite rooms next to Marang Hotel ready for operation-that would identify with the previous Chiefs of Bafokeng; establish a museum & cultural site in July and identifying a vegetables garden for the locals, amongst others.
Would all this be achievable I probe? His response was unflinchingly YES.
Due to healthy line of communication and respect, I have been given the support I need to execute all my plans, hence I was head-hunted, says the globetrotter.
From being a bartender to running his restaurant, the son of former lodge parent's owners next to Kruger Park, has been with Sun International, Protea Hotel, Birchwood Hotel, Peermont, Hilton Hotel and has worked in Namibia (birth place), Saudi Arabia, Tanzania and Zambia.
Next destination I ask and he reassures, 'I'm super where I'm at right now'.
With a staff complement of 135 and 68 rooms at Marang Hotel- for Coetzee the sky is unlimited.
"With more developments comes creation of jobs for masses of Bafokeng and responsibilities thereof," says Coetzee who declares he has a 'fun stress'.
At what value are talking of all the developments to take place and others already in existence, Coetzee vaguely says as soon as Kgosi Leruo Molotlegi calls his Lekgotla in November, no figures would be made public.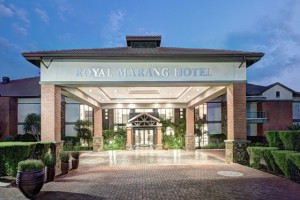 Although he's uncomfortable mentioning 'break-even' preferring profit, the 'pint-sized' and workaholic says this year the hotel made 35% profit and next year are looking at +R45m.
Last year they lost R9m as a result of a strike.
In his parting shot, he says education remains their major investments; the issue of rhino poaching should be handed over to private sector from Government; thinks the controversial Immigration Bill would affect tourism in SA within six months; talks highly of MmeMogolo Molotlegi (mother to King Leruo) and the extension of their five –year deal with Platinum Stars football club would help the team avoid relegation.