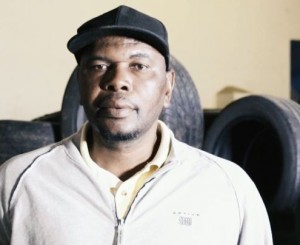 Maphanga and his cooperative consisting of 12 ' full-time workers', are part of the successful REDISA (the Recycling and Economic Development Initiative of South Africa) whose key mandate is to recycle tyres country-wide.
"We make a clean, hard and honest living hence today we're now respected in our community," says Maphanga, who says making a living from other people's rubbish was not an obvious career choice, but thanks to REDISA, he and his friends are now able to provide for their families and make a difference in their communities.
They operate from Mamelodi Ext 12 as their base station but use Silverton, Watloo and Midrand as their collection points.
He joined the organization in August last year, as part of the Zakhele Primary cooperative.
Maphanga as he's known to by his last name to his fellow's ekasie, waltz the streets of Mamelodi collecting and aligning waste tyres for REDISA transporters to collect, who are regarded as a micro collectors or waste collectors – one of the many people we see cleaning our streets on a daily basis to put food on their families' tables.
Within two years of operation, REDISA has made significant strides towards building a viable and sustainable tyre waste management industry, and believes that micro collectors are key to its success.
"We are proud of the impact the initiative has had for the many people both employed by REDISA, and those supported by secondary industries," says REDISA director Stacey Davidson.
To date the REDISA initiative has created 2 102 jobs,opened 42 depots across the country and services 1851 dealers nationally. Now that's a good story to tell…
As for the 48 year-old Maphanga, he's story is simple: REDISA has changed our lives and people respect us. Talking of respect, he noted that they now have a good working relationship with the Tshwane Metro Police, whom every month delivers tyres for recycling.
"We no longer go to them, they come to us," he says with a chuckle.
For his efforts, John was recently celebrated at the REDISA recognition awards for his role in promoting, and bringing to life the REDISA 'Waste into Worth' concept. The Minister of Environmental Department Edna Molewa presented the awards.
Unfortunately, Maphanga couldn't attend as a result of family bereavement but obviously was in 'cloud-nine' with the acknowledgment.
I am happy to be working with REDISA as they provide a lot of support and assistance, says Maphanga, as he toiled the dusty, potholed streets made worse by the chilly-bite weather.